SpamEject Service Overview
SpamEject provides a "spam" filtering service for email addresses that reduces the amount of unsolicited bulk email (spam) that is received. The service is built around a cluster of Anti-Spam Network appliances. The spam filtering service analyzes email and determines its probability of being spam by looking at a variety of factors. See Figure 1 for a graphical representation of how the filtering takes place.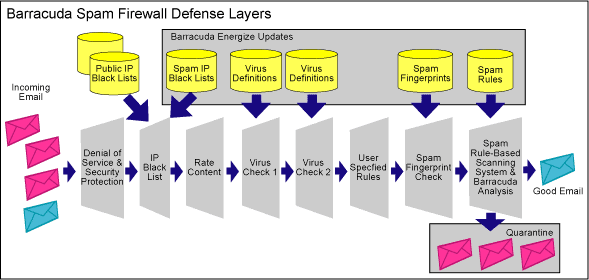 Figure 1
SpamEject replaces the current Spam Assassin scoring system with a more robust blocking and quarantining mechanism. SpamEject is an "intelligent" service and will learn what is and is not spam by the actions you take when interacting with their quarantine.
How It Works
All email is first sent to the SpamEject Firewall. If the message appears to be spam, it is held in quarantine on the server and not delivered to your email inbox. Each day that you receive spam, the SpamEject Firewall will send out a quarantine notification listing the quarantined messages. At this point, you can then open up your quarantine by clicking on any of the action links in the quarantine notification.
Several options are available for each message, including: Deliver, Whitelist, and Delete For a complete list of all the available features in the quarantine, click here . We have also compiled a list of Frequently Asked Questions which can be viewed here .
In addition to spam filtering, the SpamEject Firewall provides an additional layer of virus protection.